Product Specifications For 10KW Biomass Gas Generator
Product Detail
Product Tags
| | |
| --- | --- |
| Genset Model | 10GFT-J |
| Structure | integrated |
| Exciting Method | AVR Brushless |
| Rated Power ( kW/kVA ) | 10/12.5 |
| Rated Current ( A ) | 18 |
| Rated Voltage ( V ) | 230/400 |
| Rated Frequency ( Hz ) | 50/60 |
| Rated Power Factor | 0.8 LAG |
| No Load Voltage Range | 95% ~ 105% |
| Stable Voltage Regulation Rate | ≤±1% |
| Instantaneous Voltage Regulation Rate | ≤-15% ~ +20% |
| Voltage Recover Time | ≤3 S |
| Voltage Fluctuation Rate | ≤±0.5% |
| Instantaneous Frequency Regulation Rate | ≤±10% |
| Frequency Stabilization Time | ≤5 S |
| Line-voltage Waveform Sinusoidal Distortion Rate | ≤2.5% |
| Overall Dimension ( L*W*H ) ( mm ) | 1420*610*1200 |
| Net Weight ( kg ) | 420 |
| Noise dB ( A ) | <93 |
| Overhaul Cycle ( h ) | 20000 |
| | |
| --- | --- |
| Model | NQ25D1.5 ( Yanmar Technology ) |
| Type | Inline, 4 strokes, electric control ignition, pre-mixed stoichiometry burn, natural aspiration |
| Cylinder Number | 4 |
| Bore*Stroke ( mm ) | 90*105 |
| Total Displacement ( L ) | 2.5 |
| Rated Power ( kW ) | 15 |
| Rated Speed ( r/min ) | 1500/1800 |
| Fuel Type | Biomass gas |
| Oil (L) | 6 |
| | |
| --- | --- |
| Model | 10KZY, NPT brand |
| Display type | Multi-function LCD display |
| Control Module | HGM9320 or HGM9510, Smartgen brand |
| Operation Language | English |
| | |
| --- | --- |
| Model | XN164C |
| Brand | XN ( Xingnuo ) |
| Shaft | Single bearing |
| Rated Power ( kW/kVA ) | 10/12.5 |
| Enclosure Protection | IP23 |
| Efficiency ( % ) | 80.7 |
NQ series adopts QUANCHAI base gas engine and Japanese Yanmar technology. It has the characteristics of sufficient power, low noise, small volume and good durability.
Engine's gas mixture system, ignition and control system are independently matched and optimized by NPT, which are reliable and durable.
Ignition mode: NPT ECU single cylinder independent ignition
Control mode: American GAC electronic control
Starting mode: electric starting
Noise level: <90dB(A)
Overhaul cycle: 20000h
Generator type: pure copper brushless, automatic voltage regulation
Cooling type: radiator with cooling fan, double circuit water heat exchanger, exhaust heat recovery system,etc.
Operating mode: grid connected/self starting/island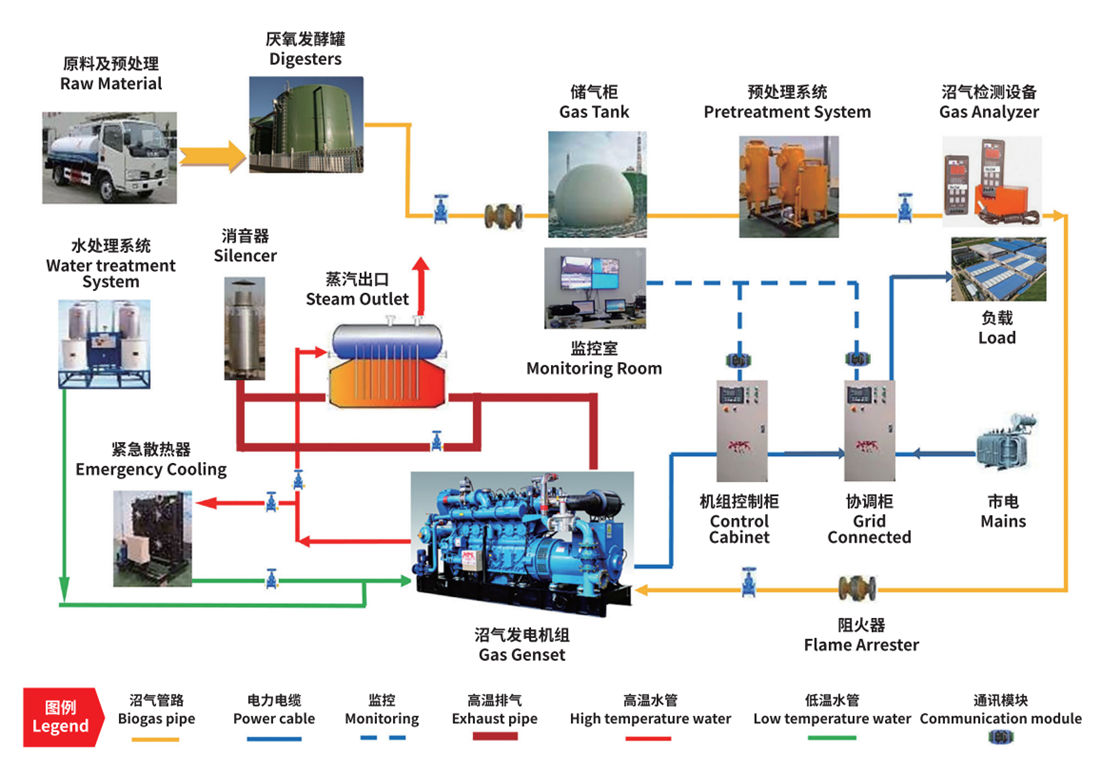 This figure takes biogas as an example. Natural gas, biomass gas, LPG and other gas generator set can also be designed and manufactured separately. Please consult our company for details.
---
---