Product Specifications For 80KW Biomass Gas Generator
Product Detail
Product Tags
| | |
| --- | --- |
| Genset Model | 80GFT-J1 |
| Structure | integrated |
| Exciting Method | AVR Brushless |
| Rated Power ( kW/kVA ) | 80/100 |
| Rated Current ( A ) | 144 |
| Rated Voltage ( V ) | 230/400 |
| Rated Frequency ( Hz ) | 50/60 |
| Rated Power Factor | 0.8 LAG |
| No Load Voltage Range | 95% ~ 105% |
| Stable Voltage Regulation Rate | ≤±1% |
| Instantaneous Voltage Regulation Rate | ≤-15% ~ +20% |
| Voltage Recover Time | ≤3 S |
| Voltage Fluctuation Rate | ≤±0.5% |
| Instantaneous Frequency Regulation Rate | ≤±10% |
| Frequency Stabilization Time | ≤5 S |
| Line-voltage Waveform Sinusoidal Distortion Rate | ≤2.5% |
| Overall Dimension ( L*W*H ) ( mm ) | 3400*1300*1800 |
| Net Weight ( kg ) | 2560 |
| Noise dB ( A ) | <93 |
| Overhaul Cycle ( h ) | 25000 |
| | |
| --- | --- |
| Model | NS118D9 ( Benz Technology ) |
| Type | Inline, 4 strokes, electric control ignition, turbocharged and inter-cooled, pre-mixed lean burn |
| Cylinder Number | 6 |
| Bore*Stroke ( mm ) | 128*153 |
| Total Displacement ( L ) | 11.813 |
| Rated Power ( kW ) | 90 |
| Rated Speed ( r/min ) | 1500/1800 |
| Fuel Type | Biomass gas |
| Oil (L) | 23 |
| | |
| --- | --- |
| Model | 350KZY, NPT brand |
| Display Type | Multi-function LCD display |
| Control Module | HGM9320 or HGM9510, Smartgen brand |
| Operation Language | English |
| | |
| --- | --- |
| Model | XN274C |
| Brand | XN ( Xingnuo ) |
| Shaft | Single bearing |
| Rated Power ( kW/kVA ) | 80/100 |
| Enclosure Protection | IP23 |
| Efficiency ( % ) | 89.9 |
NS series products use SDEC Power base gas engine.
Engine's gas mixture system, ignition and control system are independently matched and optimized by NPT, which are reliable and durable.
This series of products have excellent power performance, economy, reliability and low operating cost, which are deeply loved by users.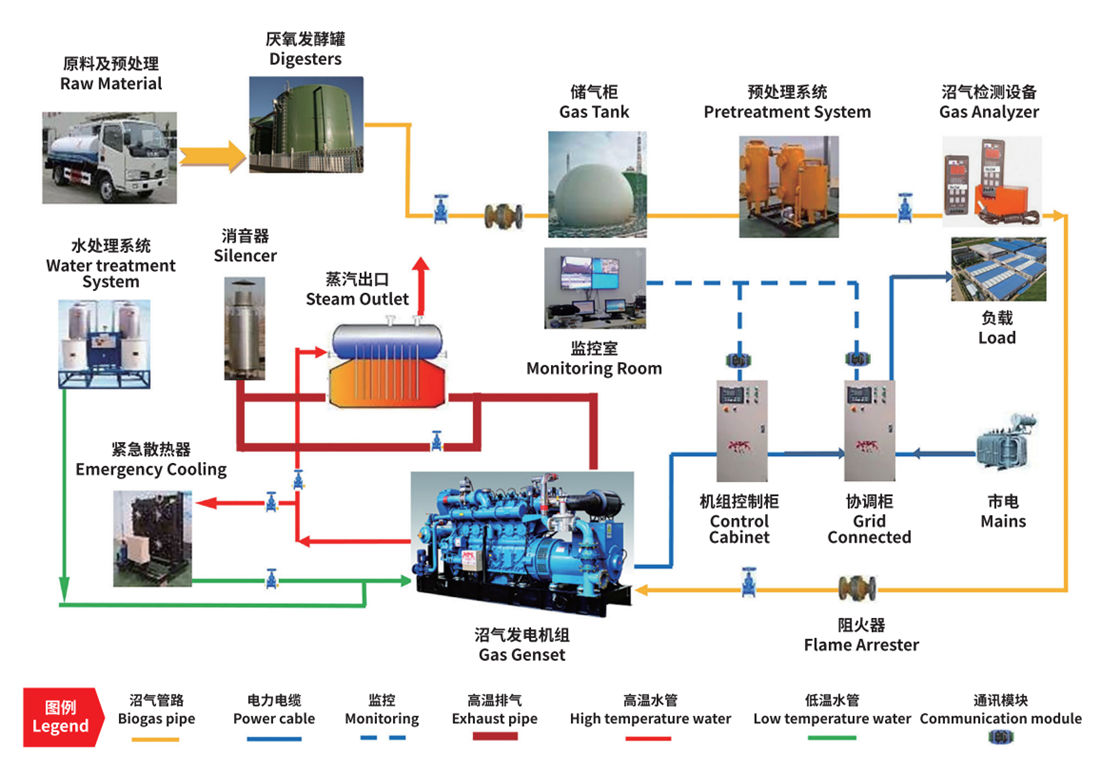 Cogeneration is the most cost-effective way to reduce carbon emissions from heating systems in cold climates, and is considered the most energy-efficient way to convert energy from fossil fuels or biomass to electricity. Combined heat and power plants are usually used in the central heating systems of urban district heating systems, hospitals, prisons and other buildings, and are usually used in heat production processes such as industrial water, cooling, and steam production.
---
---