Product Specifications For 1000KW Natural Gas / Biogas Generator
Product Detail
Product Tags
| | |
| --- | --- |
| Genset Model | 1000GFT |
| Structure | integrated |
| Exciting Method | AVR Brushless |
| Rated Power ( kW/kVA ) | 1000/1250 |
| Rated Current ( A ) | 1800 |
| Rated Voltage ( V ) | 230/400 |
| Rated Frequency ( Hz ) | 50/60 |
| Rated Power Factor | 0.8 LAG |
| No Load Voltage Range | 95% ~ 105% |
| Stable Voltage Regulation Rate | ≤±1% |
| Instantaneous Voltage Regulation Rate | ≤-15% ~ +20% |
| Voltage Recover Time | ≤3 S |
| Voltage Fluctuation Rate | ≤±0.5% |
| Instantaneous Frequency Regulation Rate | ≤±10% |
| Frequency Stabilization Time | ≤5 S |
| Line-voltage Waveform Sinusoidal Distortion Rate | ≤2.5% |
| Overall Dimension ( L*W*H ) ( mm ) | 5400*1650*2256 |
| Net Weight ( kg ) | 17800 |
| Noise dB ( A ) | <93 |
| Overhaul Cycle ( h ) | 25000 |
| | |
| --- | --- |
| Model | NY792D120TL ( AVL Technology ) |
| Type | V-type, 4 strokes, electric control ignition, turbocharged and inter-cooled, pre-mixed lean burn |
| Cylinder Number | 12 |
| Bore*Stroke ( mm ) | 200*210 |
| Total Displacement ( L ) | 79.168 |
| Rated Power ( kW ) | 1200 |
| Rated Speed ( r/min ) | 1500/1800 |
| Fuel Type | Natural gas/ Biogas |
| Oil (L) | 280 |
| | |
| --- | --- |
| Model | 1000KZY, NPT brand |
| Display Type | Multi-function LCD display |
| Control Module | HGM9320 or HGM9510, Smartgen brand |
| Operation Language | English |
| | |
| --- | --- |
| Model | XN6G |
| Brand | XN ( Xingnuo ) |
| Shaft | Single bearing |
| Rated Power ( kW/kVA ) | 1000/1250 |
| Enclosure Protection | IP23 |
| Efficiency ( % ) | 94.8 |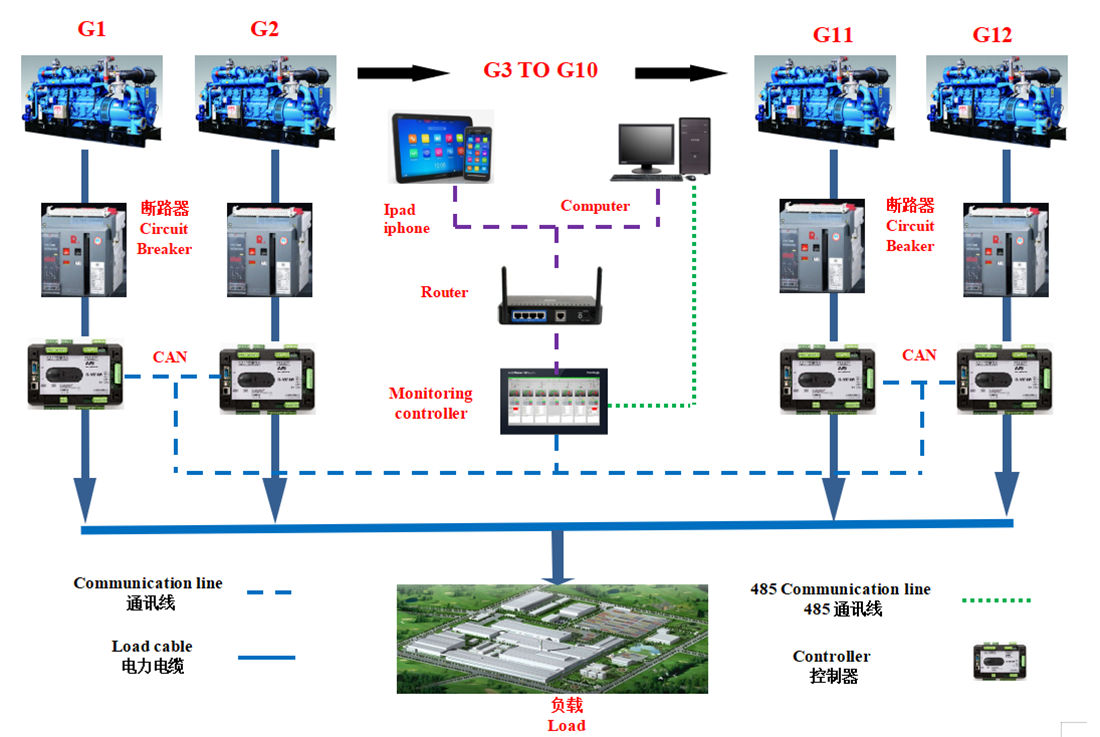 1. Auto oil change system available, easy for oil change.
2. Easy to replace oil filter.
3. "One cylinder head each cylinder" structure, easy to take off.
4. Modular design , less gas piping, coolant piping and oil piping.
Economy & Emission
1. Air-fuel ratio fine close loop control, extra lean burn, optimized combustion technology to get the best economy .
2. Special material structure ensures ultra-low lubricating oil consumption.
Customized
1. Can be customized according to customer requirements.
2. Turn-key operation.
---
---