Product Specifications For 350KW Natural Gas / Biogas Generator
Product Detail
Product Tags
| | |
| --- | --- |
| Genset Model | 350GFT |
| Structure | integrated |
| Exciting Method | AVR Brushless |
| Rated Power ( kW/kVA ) | 350/437.5 |
| Rated Current ( A ) | 630 |
| Rated Voltage ( V ) | 230/400 |
| Rated Frequency ( Hz ) | 50/60 |
| Rated Power Factor | 0.8 LAG |
| No Load Voltage Range | 95% ~ 105% |
| Stable Voltage Regulation Rate | ≤±1% |
| Instantaneous Voltage Regulation Rate | ≤-15% ~ +20% |
| Voltage Recover Time | ≤3 S |
| Voltage Fluctuation Rate | ≤±0.5% |
| Instantaneous Frequency Regulation Rate | ≤±10% |
| Frequency Stabilization Time | ≤5 S |
| Line-voltage Waveform Sinusoidal Distortion Rate | ≤2.5% |
| Overall Dimension ( L*W*H ) ( mm ) | 3900*1800*2395 |
| Net Weight ( kg ) | 4980 |
| Noise dB ( A ) | <93 |
| Overhaul Cycle ( h ) | 25000 |
| | |
| --- | --- |
| Model | NY196D40-TL |
| Type | Inline, 4 strokes, electric control ignition, turbocharged and intercooled, pre-mixed lean burn |
| Cylinder Number | 6 |
| Bore*Stroke ( mm ) | 152*180 |
| Total Displacement ( L ) | 19.6 |
| Rated Power ( kW ) | 350 |
| Rated Speed ( r/min ) | 1500/1800 |
| Fuel Type | Natural gas/Biogas |
| Oil (L) | 56 |
| | |
| --- | --- |
| Model | 350KZY, NPT brand |
| Display Type | Multi-function LCD display |
| Control Module | HGM9320 or HGM9510, Smartgen brand |
| Operation Language | English |
| | |
| --- | --- |
| Model | XN5C |
| Brand | XN ( Xingnuo ) |
| Shaft | Single bearing |
| Rated Power ( kW/kVA ) | 350/437.5 |
| Enclosure Protection | IP23 |
| Efficiency ( % ) | 93.1 |
1. Back fire protection for gas intake system.
2. Adopted Anti-explosion device on crankcase.
3. Special design protection for "Misoperation" on electric system.
4. Multi protection of over load and over speed/ frequency.
5. Full cover protection of rotated parts design.
6. Special design for gas engine system.
7. All the above technology guarantee the engine first major overhaul time reach 50000 running hours.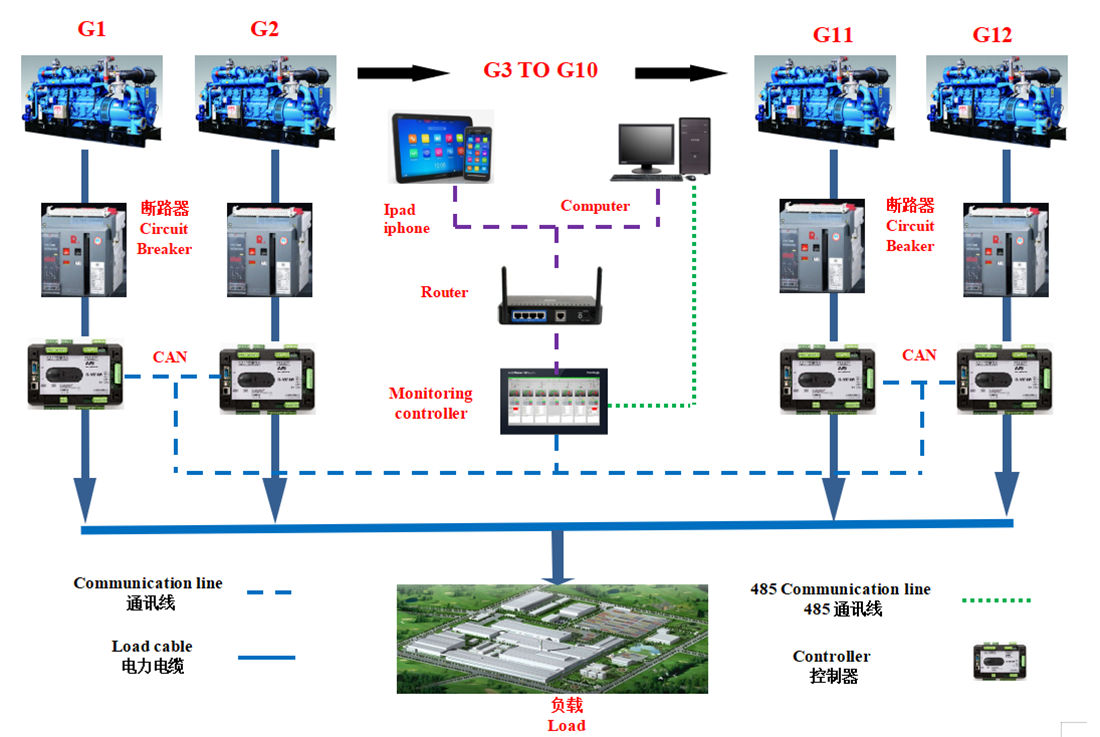 ---
---